Événements SSA
INVITATION : Quels enjeux pour la paix et le développement en Colombie? (2)
Vous êtes cordialement invité(e) à prendre part à cette conférence.
Nous comptons également sur vous pour faire circuler cette information à travers votre réseau...
LIVE ISSUES LIVE
CONFERENCE COLLOQUIUM

Quels enjeux pour la paix et le développement en Colombie?
24 JANVIER | MAISON DE LA PAIX | 14:00 - 17:30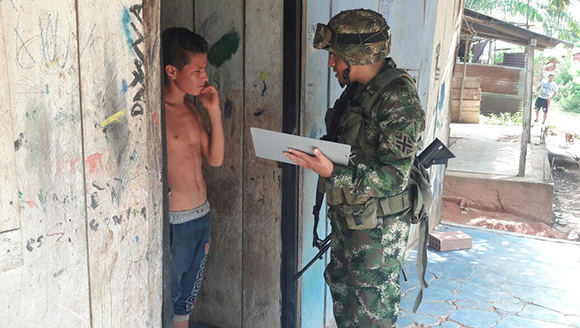 Deux ans après la signature des accords de paix en Colombie, quels sont les avancées, les obstacles et les perspectives de développement dans les régions les plus touchées par le conflit ? Venez débattre avec nos invités, acteurs locaux et chercheurs lors de trois panels :

14:10 - 15:00
: Quel bilan deux ans après la signature des accords avec les FARC ?
15:00 - 16:00
: La région du Catatumbo : un scénario controversé dans l'implémentation des accords de paix (en présence d'acteurs locaux)
16:30 - 17:30
: Perspectives, stratégies et mise en place de politiques publiques inclusives en situations de conflit (exemples d'Amérique latine, d'Asie, et d'Afrique)
> Programme détaillé et liste des intervenants
Vous pensez à quelqu'un qui s'intéresse à cette thématique ? N'hésitez pas à partager ce message autour de vous !
Call for Papers. Workshop Social Space, Memory and Conflict in Colombia
Call for Papers
Ethnologisches Seminar/Workshop: Social Space, Memory and Conflict in Colombia
16.11.2018 in Basel
A joint event of the Seminar of Social Anthropology, University of Basel / Museum der Kulturen Basel and the Swiss Society of Americanists with the support of the Swiss Academy of Humanities and Social Sciences.
Since the peace agreements, Colombia has become the focus of research related to conflict and postconflict situations and also receives a growing attention in public perceptions. The country has been frequently associated with endemic violence in the popular imaginary, in public media and academic research. Here, space has long been interpreted as contested in a physical sense that means as a territory over which is fought or where violence occurs. However, this perspective on space is limited to seeing it as a resource to be owned and exploited. In contrast, the 'spatial turn' in the social sciences and humanities provides an opportunity to explore the relationship between social space (cities/ landscapes etc), conflict (dynamics, actors, urban resistance etc) and popular imaginations (memory/ narratives etc.) in much greater depth.
The workshop is thought as a platform for recent research projects about Columbia based in Switzerland. We propose to address these three overarching concepts of conflict, space and memory as a main window to allow for a broad scope of presentations that might be interlinked and speak to each other.
For this workshop, we intend to create connections and exchange within the Colombia related academic world within Switzerland and abroad while bringing diverse disciplinary backgrounds, regional interests and historical and contemporary perspectives together. We are particularly interested in processes of knowledge production within the different fields of research and welcome papers that deal with questions of reflexivity within the proposed framework.
The workshop is directed to researchers and students of Social and Cultural Anthropology, Cultural Studies, Political Sciences, History, Law, Geography as well as Conflict and Memory Studies as well as persons interested in the current research in and about Colombia.
We would be pleased to receive your abstract proposals (250 words) in English or Spanish until 30.07.2018. Presentations should be no longer as 20 min to guarantee a discussion of at least 10 min).
We will notify the participation and publish the program mid of August 2018.
Organizers/Contact:
-------------------
Silke Oldenburg, Ethnologische Seminar, Universität Basel, This email address is being protected from spambots. You need JavaScript enabled to view it.
Alexander Brust, Museum der Kulturen Basel, This email address is being protected from spambots. You need JavaScript enabled to view it.
Date:
------
Fri, 16.11.2018 from 10:00AM to 18:00PM hrs
Venue:
------
Museum der Kulturen Basel, Veranstaltungsraum, Münsterplatz 20, 4051 Basel
CONFERENCIA Le culte rendu à Bolívar, libérateur de l'Amérique latine (2)
Nous vous invitons à une conferencia de Mme Aline Helg este sábado 1º de abril 2017, en el marco del Festival Histoire et Cité, sobre "Le culte rendu à Bolívar, libérateur de l'Amérique latine".
Aujourd'hui, Simón Bolívar continue de nourrir l'imaginaire latino-américain. Au Venezuela, il fait l'objet d'un véritable culte d'État, en particulier sous la présidence d'Hugo Chávez. Depuis les années 1840, des mouvements de droite, de gauche, fascisants ou de guérilla marxiste revendiquent son héritage. Mais quels liens entre ces récupérations politiques souvent contradictoires et la vision qu'à Bolívar de l'Amérique?
Mas información aquí:
https://histoire-cite.ch/programme/le-culte-rendu-a-bolivar-liberateur-de-lamerique-latine/
Lugar : Universidad de Ginebra, Uni Bastions, Salle B101.
Fecha y hora : samedi 1 avril 2017, de 12h45 à 13h45
La Sociedad Suiza de Americanistas y Area Studies
Sabine Kradolfer (miembro SAG-SSA) trabajó junto con Daniel Künzler, Anne Mayor y Thomas Herzog en la redacción del documento de posición de la SAG-SSA sobre los Area Studies. La ASSH ya está distribuyendo la publicación que contiene ese documento. Pueden encontrar el texto completo del documento que fue redactado en esa ocasión en la páginas 57 a 70 de la publicación ASSH. Para obtener una copia, por favor abre este ENLACE.
Coloquio internacional "Derecho y politicas para pueblos indigenas y poblaciones afrodescendientes : desafìos en la investigaciòn transdisciplinaria y colaborativa" (2)

FECHA
Lunes 4 de Julio 2016 de 9h30 a 17h00.
Martes 5 de Julio 2016: de 09h30 a 17h00.
LUGAR: Edificio Géopolis, UNIL (UNIVERSIDAD DE LAUSANNE), Mouline - 2235, Lausanne.
¿COMO LLEGAR HASTA ALLI? Véase: https://www.unil.ch/acces/fr/home.html
Esta jornadas se llevará a cabo en español ya que contaremos con colegas y representantes indígenas y afrodescendientes latinoamericanos.
El coloquio alternará entre:
- Talleres o sesiones de discusión de problemáticas entre estudiantes graduados, activistas, académicos, etc. que se centraron en casos concretos de investigación presentados en unos 10 minutos; y
- Sesiones plenarias con conferencias magistrales y sesión de preguntas y respuestas (en español y francés).
Durante estas jornadas se explorarán diversas experiencias y formas de conformar proyectos de investigación académica que incorporen interlocutor es indígenas y afro-descendientes (quienes pueden ser o no académicos), así como activistas y colaboradores de comunidades y organizaciones. Los talleres y paneles incluirán la participación de investigadores jóvenes y estudiantes de posgrado así como investigadores senior con amplia experiencia en investigación colaborativa, quienes no sólo estimularán el debate sino que también compartirán aprendizajes
sobre estrategias de elaboración de proyectos conjuntos más ambiciosos.
La organización de este evento es posible gracias al soporte económico del Secrétariat d'Etat à la formation, à la recherche et à l'innovation (SEFRI-Suiza) en el marco de los Seed Money Grants para Latinoamérica y el Instituto de Ciencias sociales de la Universidad de Lausanne, del Instituto de ciencias sociales de la Universidad de Lausanne y de la Sociedad Suiza de Americanistas.
Este coloquio está organizado bajo los auspicios del LACS y del LACCUS, dos laboratorios del Instituto de ciencias sociales de la Universidad de Lausanne.
Para información on-line, véase (el link sobre el programa esta abajo de la página): https://www.unil.ch/getactu/wwwlaccus/1466064555750/
Para quienes quiere participar, rogamos que se inscriban POR EMAIL antes del 30 de junio a This email address is being protected from spambots. You need JavaScript enabled to view it., es muy importante por razones de organización.
EL PROGRAMA COMPLETO ESTA DISPONIBLE EN ESTE ENLACE
Organizan:
Sabine Kradolfer, Universidad de Lausanne
Aline Helg, Universidad de Ginebra
Claudia Briones, IIDyPCa, CONICET y UNRN (Argentina)
Simposio: Falsificaciones en las Artes, las Letras y los Productos (2)
Tenemos el placer de anunciarles el simposio interdisciplinario sobre las falsificaciones en las artes, las letras y los productos.
FECHA: 17 y 18 de junio 2016.
Lugar: Universidad de San Gallen, sala 09-012, edificio de la Biblioteca Entrada superior, frente a Guisanstrasse 11, entrada principal, Dufourstrasse 50.
Nos encantaría contar con su presencia en el evento, cuyo programa encuentran en documento adjunto.
La jornada está abierta al público y será de asistencia gratuita. Por motivos de organización, les rogamos que se inscriban hasta el 15 de junio de 2016: This email address is being protected from spambots. You need JavaScript enabled to view it.
ORGANIZA:
Centro Latinoamericano-Suizo CLS-HSG, San Gallen
Tfno.: +41 071 224 25 66 This email address is being protected from spambots. You need JavaScript enabled to view it.
www.cls.unisg.ch
INTRODUCCIÓN
En las culturas occidentales, la autenticidad y la originalidad suelen considerarse valores autosuficientes, estrechamente ligados entre sí que pueden provocar dilemas y situaciones límite. Al mismo tiempo, la falsificación goza de un reconocimiento renovado: el mimetismo en la naturaleza, Jusep Torres Campalans en el género biográfico, Pierre Menard en la escritura, Elmyr de Hory en la pintura o el pirateado bolso Louis Vuitton siguen suscitando un amplio interés. Las letras, las artes y los productos industriales recurren a la falsificación como principio creador tan sugerente como subversivo. Al mismo tiempo, no se deja de reivindicar la importancia de la propiedad intelectual y el valor de lo auténtico. La era digital, por su parte, trae consigo nuevos desafíos que no solo atañen a las prácticas de patentar productos sino también la piratería y el plagio de trabajos académicos. Tematizar este debate promete llevarnos hacia una exploración dialéctica de sus tensiones. El congreso aborda la falsificación como zona crepuscular entre recurso artístico y práctica ilícita que saca a la luz nuevas dimensiones del siempre problemático vínculo entre la verdad y su ocultamiento.
CONVOCATORIA : ASAMBLEA GENERAL 2016
ASAMBLEA GENERAL DE LA SSA-SAG
Fecha: 20 de mayo 2016
Hora: 12h00 – 14h00
Sitio: Centre for Development and Environment (CDE)
Universidad de Berna Hallerstrasse 10 – Berna
Sala 310 (tercer piso)
Orden del día
1. Aprobación del acta de la Asamblea General del 26 de mayo 2015 (anexo1)
2. Informe de actividades 2015 (anexo 2).
Coloquios
• Lima 11 y 12 de agosto 2015, Gobernanza local, pueblos indígenas e industrias extractivas: transformaciones y continuidades en América Latina."
• 13 noviembre 2015, "La transformación del Estado Plurinacional de Bolivia y el proceso autonómico".
• LaRevista Número 75 "Colombia Hoy". Publicado, Mesa Redonda, informe Claude Auroi.
3. Aprobación del informe financiero 2015 (anexo 3a y 3b).
4. Informe revisor fiscal y aprobación (anexo 4).
5. Actividades ejecutadas y previstas en 2016 .
• 8 de enero 2016, "Extractive Industries and Local Governance in Developing Countries: Challenges and Solutions". Responsable Liliana Soler
• 27-28 marzo 2016 (Berna), 26-27 Junio 2016 (Zurich), 16-17 Octubre 2016 . "The conferences of the Latin American-Swiss Doctoral and Postdoctoral Network". Responsable Yvette Sanchez
• LaRevista Número 76 : "Gobernanza local, pueblos indígenas e industrias extractivas: transformaciones y continuidades en América Latina." Responsable Liliana Soler
• Revista en preparación: "Chile hacia el futuro". Responsable Claude Auroi y Rodrigo Saez-Muñoz
6. Presentación de las propuestas de financiación 2017.
7. Funcionamiento de la SSA (propuestas de nuevo Comité).
8. Varios
El Presidente
La Secretaria General
ANEXOS
Anexo_2_Informe_de_actividades_2015
Anexo_3a_Pertes_et_Profits_2015
Anexo_4_Rapport_verificateurs_des_comptes
FIN DE PARTIE POUR LA GAUCHE BRESILIENNE?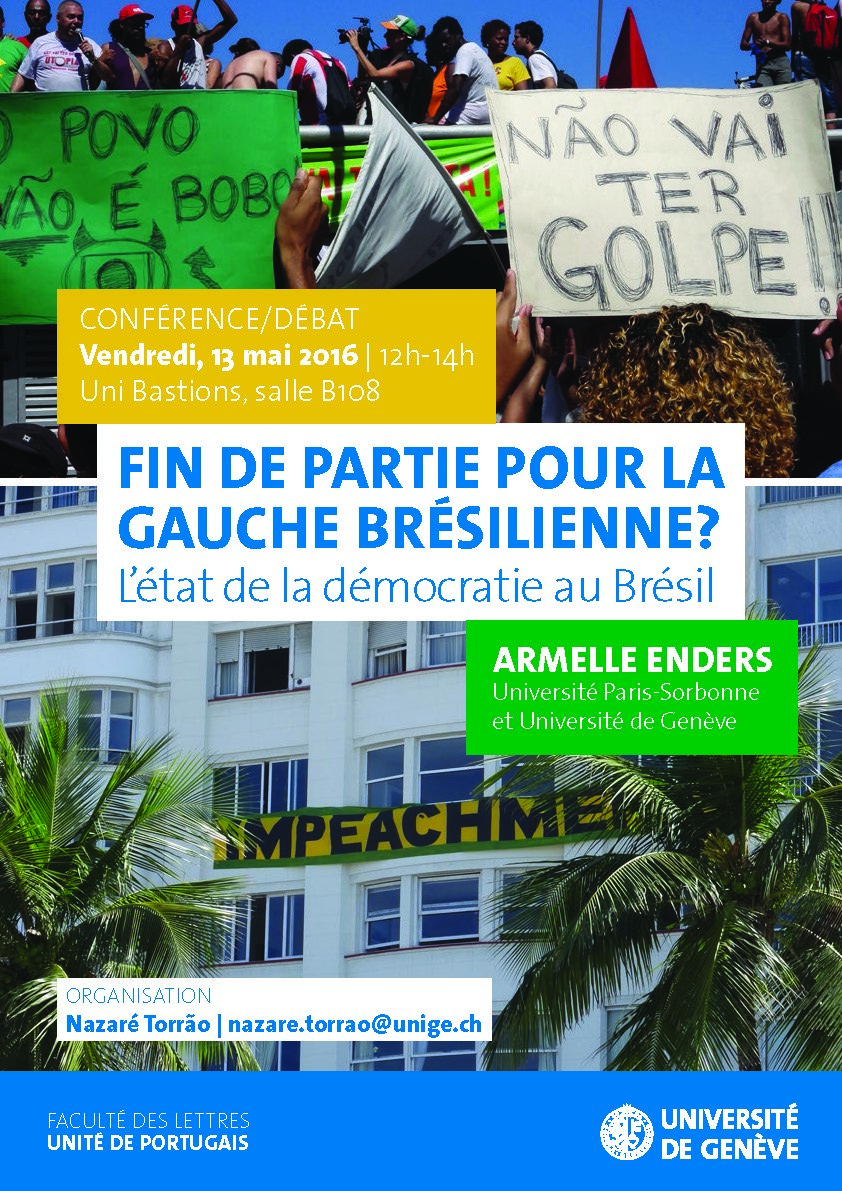 VENDREDI, 13 MAI 2016 12h-14 h
UNI BASTIONS, SALLE B108
FIN DE PARTIE POUR LA GAUCHE BRESILIENNE?
L'ETAT DE LA DEMOCRATIE AU BRESIL
Par Armelle Enders
Université Paris-Sorbonne et Université de Genève
Contact:
FACULTE DES LETTRES
UNITE DE PORTUGAIS
Nazaré Torrão : This email address is being protected from spambots. You need JavaScript enabled to view it.
CONFERENCE CHANGEMENT CLIMATIQUE ET EXTRACTION MINIÈRE CHEZ LES Q'EROS DES ANDES (2)
Dans le cadre du séminaire "Comprendre le monde andin (Pérou, Bolivie, Equateur). Politique, société et ethnicité, XIX-XXème siècles » organisé par Ombeline Dagicour (DEPARTEMENT D'HISTOIRE GENERALE DE LA FACULTE DES LETTRES DE LA UNIVERSITE DE GENEVE),

LE DR. GEREMIA COMETTI
(Fondation Nationale Suisse, chercheur invité au Laboratoire d'Anthropologie Sociale- EHESS/Collège de France (Paris). Auteur de Lorsque le brouillard a cessé de nous écouter » Changement climatique et migrations chez les Q'eros des Andes péruviennes. Bern, Berlin, Bruxelles, Frankfurt am Main, New York, Oxford, Wien: Peter Lang, publié en 2015).
Donnera la conférence :
CHANGEMENT CLIMATIQUE ET EXTRACTION MINIÈRE CHEZ LES Q'EROS DES ANDES
RÉSUMÉ: À travers un travail ethnographique chez les Q'eros des Andes péruviennes, cette communication vise à montrer l'importance d'intégrer dans les études conventionnelles sur les impacts du changement climatique, les points de vue des sociétés directement concernées. Ces réflexions seront élargies en intégrant dans l'analyse la question du secteur extractif – toujours plus expansif – au Pérou et dans la région de Cuzco. L'objectif principal de la communication sera de repenser les relations entre êtres humains et non humains afin de mieux comprendre comment les sociétés andines conçoivent et réagissent face aux mutations rapides de leur environnement.
Lieu/date : SALLE MR040, UNIMAIL, PLACE DE PLANPALAIS, GENEVE - Lundi 4 AVRIL, DE 16H15 A 18H00
Présentation du livre "Plus jamais esclaves"

Les Cafés de l'Histoire
Payot Librairie et la Maison de l'histoire vous convient aux Cafés de l'Histoire :
Avec Aline Helg (UNIGE) pour son ouvrage "Plus jamais esclaves".
Débat animé par Bouda Etemad (UNIL).
« Plus jamais esclaves ! ».

Dans le cadre des Cafés de l'Histoire organisés en partenariat avec Maison de l'Histoire (UNIGE), Payot Libraire reçoit au café «La Semeuse» de sa librairie du centre-ville l'historienne Aline Helg, professeure à l'Université de Genève.

Son récent ouvrage Plus jamais esclaves !, qui révèle la genèse sur trois siècles de la libération des esclaves dans les colonies du Nouveau-Monde, bouleverse totalement la vision communément admise jusqu'ici de la prépondérance des mouvements abolitionnistes : le débat, animé par Bouda Etemad (UNIL), ne devrait pas manquer de révélations passionnantes !
ENTREE LIBRE
Jeudi 17 mars 2016 | 18h00 | Payot Libraire - Rive Gauche
Rue de la Confédération 7, 1204 Genève
« Plus jamais esclaves ! » Editions La Découverte .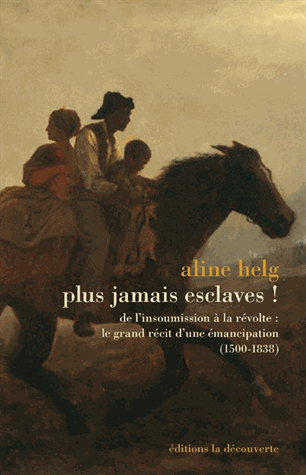 Longtemps, l'émancipation des esclaves fut considérée comme l'oeuvre des abolitionnistes, libéraux et blancs ; comme un mouvement, en somme, impulsé au sein même des pays responsables de la condition servile. Dans ce livre, qui fait pour la première fois le grand récit des insoumissions et des rébellions d'esclaves en couvrant, sur plus de trois siècles, l'ensemble des Amériques, Aline Helg déboulonne cette version de l'histoire. Elle montre que, bien avant la naissance des mouvements abolitionnistes, une partie des millions d'esclaves arrachés à l'Afrique par la traite négrière et leurs descendants était parvenue à se libérer. Tel est l'enseignement majeur de ce livre, qui repose sur des sources états-uniennes, latino-américaines, antillaises, britanniques, françaises et néerlandaises.De cet inventaire critique sans précédent d'une historiographie en renouveau constant depuis trois décennies, il ressort une réalité qui dépasse en force et en richesse toutes les idées reçues. Les esclaves ont en effet rarement opté pour la révolte massive, comme à Saint-Domingue, puis dans les Antilles britanniques de la Barbade, Démérara et la Jamaïque ; ils ont le plus souvent exploité les failles du système, à l'échelle locale ou globale, pour gagner leur liberté. C'est la force de l'ouvrage pionnier d'Aline Helg de faire ressortir ces stratégies destinées à renverser subrepticement un rapport de forces qui, dans son écrasant déséquilibre, ne laissait a priori rien espérer.Sans magnifier le rôle des esclaves ni occulter les limites de leurs actions, ce livre offre une leçon d'espoir. Il montre que l'esclavagisme déshumanisant n'est pas parvenu à empêcher que des hommes, des femmes et des enfants accèdent, par leurs propres moyens, à la liberté.
L'auteur
Après avoir enseigné à l'université du Texas, l'historienne Aline Helg est désormais professeure à l'université de Genève. Elle a publié "Liberty and Equality in Caribbean Colombia, 1770-1835" (2004) et "Our Rightful Share. The Afro-Cuban Struggle for Equality, 1886-1912" (1995), tous deux lauréats du prix de l'American Historical Association.
Aline Helg a obtenu son doctorat de l'Université de Genève (1983), où elle est professeur d'histoire depuis 2003. Elle a également enseigné à l'Universidad de los Andes (Bogota) et l'Université du Texas à Austin (1989-2003). Elle a reçu des subventions de recherche en Suisse par la Caisse nationale et le ministère des Affaires étrangères, et aux Etats-Unis par le Humanities National Center, l'Université du Texas, la Fondation nationale pour les sciences humaines, l'American Philosophical Society, et la Ford, Mellon et les fondations Rockefeller. Ses domaines d'études sont les Amériques et le monde atlantique depuis les guerres d'indépendance, la diaspora africaine, l'origine ethnique, le racisme et les droits civils par rapport. Elle a publié civilisateur Le Peuple et anciens les élites. L'éducation en Colombie, 1918-1957 (Paris, 1984), également en espagnol La educación en Colombie, 1918-1957 (Bogotá, 1987 et 2001). Son deuxième livre, Notre Rightful Partager. La lutte afro-cubaine pour l'égalité, 1886-1912 (Chapel Hill, 1995), également dans la traduction espagnole comme Lo que nos CORRESPOND: La lucha de los negros mulatos y en Cuba, 1886-1912 (La Havane, 2000), a reçu prix de l'American Historical Association, l'Association des historiens des Caraïbes, et l'Association des études des Caraïbes. Liberté et égalité du Dr Helg dans les Caraïbes Colombie, 1770-1835 (Chapel Hill, 2004, sera bientôt publié en espagnol) a également été récipiendaire d'un prix de l'American Historical Association. Elle a publié des chapitres dans des volumes édités et articles en études comparatives dans la société et d'histoire, Colonial américaine Historical Review latine, Ethnohistoire, Journal of Latin American Studies, Revista de Indias, l'esclavage et l'abolition, América Negra, Cuadernos de Historia Contemporánea, et Revista Iberoamericana . Elle travaille actuellement sur un nouveau livre, Après l'esclavage: unité et diversité des Amériques noires de l'abolition à la mondialisation, qui sera publié par André Versaille à Bruxelles.
Evolution of an Academic Society
Evolution of an academic society
The Swiss Society of Americanists was founded in 1949. At first, it consisted mainly of Swiss anthropologists and ethnologists who conducted research in the Americas. Subsequently, the Society has included members from other countries and became open to many disciplines such as geography, art, history, literature, sociology, economics, etc. The Society brings together "people who are interested in the three Americas" to generate "better scientific and human knowledge of these three sub-continents, including their multicultural components" (art. 3 of the Contitution Articles of the SAG-SSA). Currently, it has about 300 members (individual and/or collective). Members come from a variety of disciplines, including anthropology, archeology, art, education, economics, geography, history, human rights, law, philosophy, linguistics, sociology and urban studies. The Society owns an important thematic library hosted by the Geneva Museum of Ethnography located at the new and modern MEG building. The SSA is member of the Swiss Academy of Humanities and Social Sciences (SAHS).
An Open Society: Culture and Science
The Swiss Society of Americanists, whose headquarters are in Geneva, aims to bring together people interested in the three Americas, seeking in particular the active participation of members from these regions, and to promote better scientific knowledge Relevant areas of human and anthropology, history, linguistics and ethnography. The Society assists with the publication of an annual newsletter, including articles in French, German, English, Spanish and Portuguese. The Society seeks to connect people who are interested in these studies.
SAG-SSA promotes the exchange of ideas and information among researchers from various disciplines who study the history, literature and culture of America. The Society promotes the exchange of ideas and information between its members through a newsletter "LA Revista", a forum for the exchange of concerns of the members, through an electronic newsletter, and through meetings, conferences, seminars, symposia, joint research projects, and any other means that the Society deems appropriate.
New paths
Today, the Society wants to increase its impact and open its activities to a wider audience. In addition to the strictly educational activities such as seminars, conferences and the publication of the Bulletin, considered essential to increase its offer:
• enrich the cultural production proposals and academic associative structures and unskilled individuals: support research and conferences or symposiums and artistic audiovisual documents to obtain a more complete image.
• create interfaces or areas of action to educate a wider audience about the issues raised and defended by the SSA.
An international network of research and scientific and cultural disclosure
The SSA brings together "people who are interested in the three Americas" to generate "better scientific and human knowledge of these three sub-continents, including their multicultural components". Currently it has about 300 members (individual or collective). Members come from a variety of disciplines, including anthropology, archeology, art, education, economics, geography, history, human rights, law, philosophy, linguistics, sociology and urban studies. The SSA is a non-profit organization whose funding depends on the majority of contributions paid by its members, their projects also receive financial support from the SAHS. You can become a member of our Society and support our programs.
The Swiss Society of Americanists admits as working languages ​​Spanish, Portuguese, English, German and French. To facilitate communication and debate, the Company proposes the use of Spanish, Portuguese or English.
Main activities of the SAG-SSA
:: The organization of the Study Days every two years
:: The publication of a scientific journal, the Bulletin of the SSA (No. 1-70) that became "LA Revista" since number 71
:: The organization of conferences and colloquia
:: The publication of a newsletter (electronic version)
:: Managing a large collection of bibliographic resources and documentation about Americanist studies
:: Development and maintenance of a dedicated website: www.sag-ssa.ch
:: An online forum where researchers from different backgrounds could meet, exchange ideas, share their points view and their data.