Conferences
Coloquio internacional : "Derecho y politicas para pueblos indigenas y poblaciones afrodescendientes : desafìos en la investigaciòn transdisciplinaria y colaborativa"
Published: Wednesday, 22 June 2016 17:54

FECHA
Lunes 4 de Julio 2016 de 9h30 a 17h00.
Martes 5 de Julio 2016: de 09h30 a 17h00.
LUGAR: Edificio Géopolis, UNIL (UNIVERSIDAD DE LAUSANNE), Mouline - 2235, Lausanne.
¿COMO LLEGAR HASTA ALLI? Véase: https://www.unil.ch/acces/fr/home.html
Esta jornadas se llevará a cabo en español ya que contaremos con colegas y representantes indígenas y afrodescendientes latinoamericanos.
El coloquio alternará entre:
- Talleres o sesiones de discusión de problemáticas entre estudiantes graduados, activistas, académicos, etc. que se centraron en casos concretos de investigación presentados en unos 10 minutos; y
- Sesiones plenarias con conferencias magistrales y sesión de preguntas y respuestas (en español y francés).
Durante estas jornadas se explorarán diversas experiencias y formas de conformar proyectos de investigación académica que incorporen interlocutor es indígenas y afro-descendientes (quienes pueden ser o no académicos), así como activistas y colaboradores de comunidades y organizaciones. Los talleres y paneles incluirán la participación de investigadores jóvenes y estudiantes de posgrado así como investigadores senior con amplia experiencia en investigación colaborativa, quienes no sólo estimularán el debate sino que también compartirán aprendizajes
sobre estrategias de elaboración de proyectos conjuntos más ambiciosos.
La organización de este evento es posible gracias al soporte económico del Secrétariat d'Etat à la formation, à la recherche et à l'innovation (SEFRI-Suiza) en el marco de los Seed Money Grants para Latinoamérica y el Instituto de Ciencias sociales de la Universidad de Lausanne, del Instituto de ciencias sociales de la Universidad de Lausanne y de la Sociedad Suiza de Americanistas.
Este coloquio está organizado bajo los auspicios del LACS y del LACCUS, dos laboratorios del Instituto de ciencias sociales de la Universidad de Lausanne.
Para información on-line, véase (el link sobre el programa esta abajo de la página): https://www.unil.ch/getactu/wwwlaccus/1466064555750/
Para quienes quiere participar, rogamos que se inscriban POR EMAIL antes del 30 de junio a This email address is being protected from spambots. You need JavaScript enabled to view it., es muy importante por razones de organización.
EL PROGRAMA COMPLETO ESTA DISPONIBLE EN ESTE ENLACE
Organizan:
Sabine Kradolfer, Universidad de Lausanne
Aline Helg, Universidad de Ginebra
Claudia Briones, IIDyPCa, CONICET y UNRN (Argentina)
Simposio: Falsificaciones en las Artes, las Letras y los Productos
Published: Monday, 23 May 2016 23:01
Tenemos el placer de anunciarles el simposio interdisciplinario sobre las falsificaciones en las artes, las letras y los productos.
FECHA: 17 y 18 de junio 2016.
Lugar: Universidad de San Gallen, sala 09-012, edificio de la Biblioteca Entrada superior, frente a Guisanstrasse 11, entrada principal, Dufourstrasse 50.
Nos encantaría contar con su presencia en el evento, cuyo programa encuentran en documento adjunto.
La jornada está abierta al público y será de asistencia gratuita. Por motivos de organización, les rogamos que se inscriban hasta el 15 de junio de 2016: This email address is being protected from spambots. You need JavaScript enabled to view it.
ORGANIZA:
Centro Latinoamericano-Suizo CLS-HSG, San Gallen
Tfno.: +41 071 224 25 66 This email address is being protected from spambots. You need JavaScript enabled to view it.
www.cls.unisg.ch
INTRODUCCIÓN
En las culturas occidentales, la autenticidad y la originalidad suelen considerarse valores autosuficientes, estrechamente ligados entre sí que pueden provocar dilemas y situaciones límite. Al mismo tiempo, la falsificación goza de un reconocimiento renovado: el mimetismo en la naturaleza, Jusep Torres Campalans en el género biográfico, Pierre Menard en la escritura, Elmyr de Hory en la pintura o el pirateado bolso Louis Vuitton siguen suscitando un amplio interés. Las letras, las artes y los productos industriales recurren a la falsificación como principio creador tan sugerente como subversivo. Al mismo tiempo, no se deja de reivindicar la importancia de la propiedad intelectual y el valor de lo auténtico. La era digital, por su parte, trae consigo nuevos desafíos que no solo atañen a las prácticas de patentar productos sino también la piratería y el plagio de trabajos académicos. Tematizar este debate promete llevarnos hacia una exploración dialéctica de sus tensiones. El congreso aborda la falsificación como zona crepuscular entre recurso artístico y práctica ilícita que saca a la luz nuevas dimensiones del siempre problemático vínculo entre la verdad y su ocultamiento.
CONFERENCE/DEBAT FIN DE PARTIE POUR LA GAUCHE BRESILIENNE?
Published: Thursday, 28 April 2016 14:16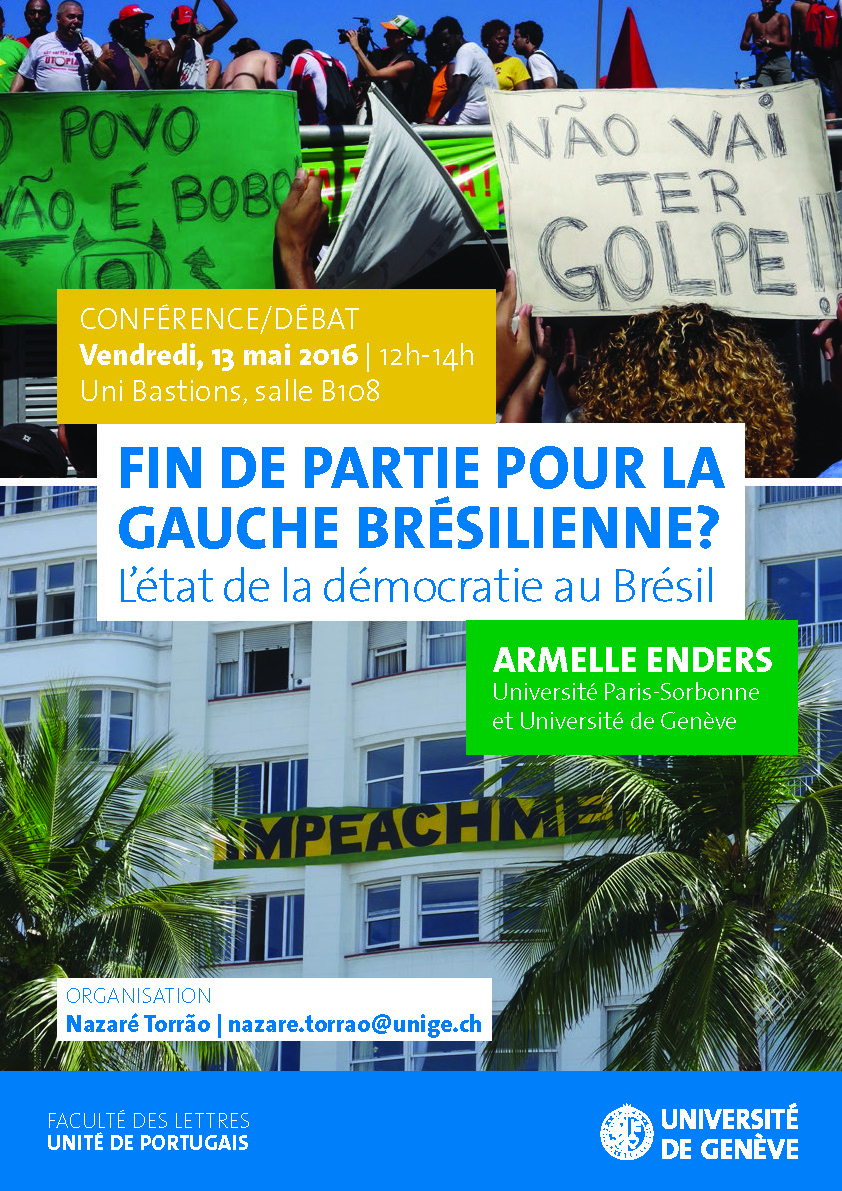 VENDREDI, 13 MAI 2016 12h-14 h
UNI BASTIONS, SALLE B108
FIN DE PARTIE POUR LA GAUCHE BRESILIENNE?
L'ETAT DE LA DEMOCRATIE AU BRESIL
Par Armelle Enders
Université Paris-Sorbonne et Université de Genève
Contact:
FACULTE DES LETTRES
UNITE DE PORTUGAIS
Nazaré Torrão : This email address is being protected from spambots. You need JavaScript enabled to view it.
Conference "CHANGEMENT CLIMATIQUE ET EXTRACTION MINIÈRE CHEZ LES Q'EROS DES ANDES"
Published: Thursday, 24 March 2016 13:56
Dans le cadre du séminaire "Comprendre le monde andin (Pérou, Bolivie, Equateur). Politique, société et ethnicité, XIX-XXème siècles » organisé par Ombeline Dagicour.

LE DR. GEREMIA COMETTI
(Fondation Nationale Suisse, chercheur invité au Laboratoire d'Anthropologie Sociale- EHESS/Collège de France (Paris). Auteur de Lorsque le brouillard a cessé de nous écouter » Changement climatique et migrations chez les Q'eros des Andes péruviennes. Bern, Berlin, Bruxelles, Frankfurt am Main, New York, Oxford, Wien: Peter Lang, publié en 2015).
Donnera la conférence :
CHANGEMENT CLIMATIQUE ET EXTRACTION MINIÈRE CHEZ LES Q'EROS DES ANDES
RÉSUMÉ: À travers un travail ethnographique chez les Q'eros des Andes péruviennes, cette communication vise à montrer l'importance d'intégrer dans les études conventionnelles sur les impacts du changement climatique, les points de vue des sociétés directement concernées. Ces réflexions seront élargies en intégrant dans l'analyse la question du secteur extractif – toujours plus expansif – au Pérou et dans la région de Cuzco. L'objectif principal de la communication sera de repenser les relations entre êtres humains et non humains afin de mieux comprendre comment les sociétés andines conçoivent et réagissent face aux mutations rapides de leur environnement.
Lieu/date : SALLE MR040, UNIMAIL, PLACE DE PLANPALAIS, GENEVE - Lundi 4 AVRIL, DE 16H15 A 18H00
Présentation du livre "Plus jamais esclaves"
Published: Friday, 11 March 2016 18:06

Les Cafés de l'Histoire
Payot Librairie et la Maison de l'histoire vous convient aux Cafés de l'Histoire :
Avec Aline Helg (UNIGE) pour son ouvrage "Plus jamais esclaves".
Débat animé par Bouda Etemad (UNIL).
Jeudi 17 mars 2016 | 18h00 | Payot Rive Gauche
LECTURE: DIE MAYA IM DIGITALEN ZEITALTER - THE MAYA IN THE DIGITAL AGE
Published: Sunday, 21 February 2016 09:39
VORTRAG - ETHNOLOGIE FASSBAR
MUSEUM DER KULTUREN BASEL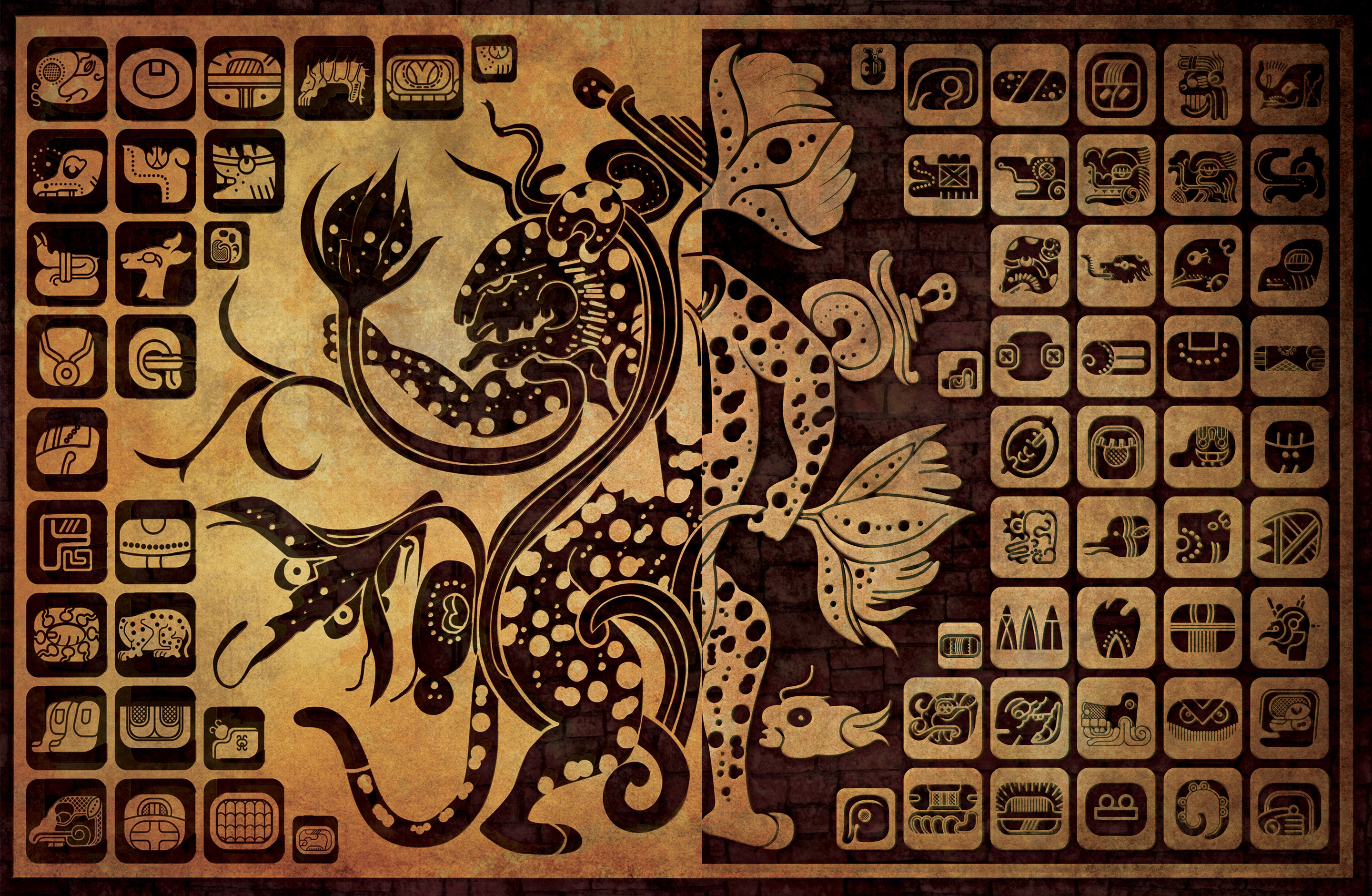 DIE MAYA IM DIGITALEN ZEITALTER
THE MAYA IN THE DIGITAL AGE
02. März 2016, 18.00 - 20.00 Uhr
March 2, 2016, 06.00 - 08.00 p.m.
Museum der Kulturen Basel, Münsterplatz 20, 4051 Basel
Die hölzernen Türsturze aus Tikal gehören zu den wichtigsten Kunstwerken der vorspanischen Maya. Wir diskutieren über den neusten Stand zur Forschung ihrer Hieroglyphentexte und Bildwerke und stellen ein neues digitales Dokumentationsprojekt zur Analyse der bekannten klassischen Maya-Texte vor, das zur Herstellung eines digitalen Wörterbuchs führen wird.
Mit Christian Prager, Sven Gronemeyer und Elisabeth Wagner, Forschungsprojekt "Textdatenbank und Wörterbuch des Klassischen Maya", Universität Bonn. Moderation: Alexander Brust.
Eintritt (gemäss Tarifstruktur)
The wooden lintels from Tikal are amongst the most significant works of art created by the pre-Hispanic Maya people. We discuss the newest research findings concerning the hieroglyph texts and accompanying imagery and present a new digital documentation project designed to analyse the classical Mayan texts with the aim of compiling a digital dictionary.
With Christian Prager, Sven Gronemeyer and Elisabeth Wagner, research project "Text Data Base and Dictionary of Classical Maya", University of Bonn. Panellist: Alexander Brust
> in german
Link zur Veranstaltungsreihe "Ethnologie fassbar"
Museum der Kulturen Basel | Münsterplatz 20 | 4051 Basel | T +41 61 266 56 00 | This email address is being protected from spambots. You need JavaScript enabled to view it.
GRASPING ANTHROPOLOGY
Every first Wednesday of the month, in the evening, we organize an interactive event called "Grasping Anthropology". The idea is to present an anthropological topic of interest, discuss current societal issues and tell stories from a fresh or at least different perspective, offering new and often surprising ways of looking at our everyday life.
The speed of political and socio-cultural change has stepped up a gear over the last few years – whether this is actually the case or only felt so is anyone's guess. The term "unbelievable" is on everyone's lips, signalling individual as well as collective astonishment, maybe even the feeling of losing control. Triggering mixed feelings, even anxiety, lies in the nature of change. The event "Grasping Anthropology" is a special form of mediation and outreach. In guided tours, gallery talks, discussions, workshops, concerts, readings, etc. we shed light on a wide range of culturally and socially relevant topics – in context and in a coherent and comprehensible way. Engagement with the audience and lively discussions on current issues, exhibitions, exhibited objects or the museum as such is what our curators and guest speakers expect, or at least hope for. In this way both sides profit from the exchange, making things which at first appear unbelievable, easier to grasp.
TOP