Conferences
Call for Papers. Social Space, Memory and Conflict in Colombia
Published: Thursday, 05 July 2018 10:32
Call for Papers
Ethnologisches Seminar/Workshop: Social Space, Memory and Conflict in Colombia
16.11.2018 in Basel
A joint event of the Seminar of Social Anthropology, University of Basel / Museum der Kulturen Basel and the Swiss Society of Americanists with the support of the Swiss Academy of Humanities and Social Sciences.
Since the peace agreements, Colombia has become the focus of research related to conflict and postconflict situations and also receives a growing attention in public perceptions. The country has been frequently associated with endemic violence in the popular imaginary, in public media and academic research. Here, space has long been interpreted as contested in a physical sense that means as a territory over which is fought or where violence occurs. However, this perspective on space is limited to seeing it as a resource to be owned and exploited. In contrast, the 'spatial turn' in the social sciences and humanities provides an opportunity to explore the relationship between social space (cities/ landscapes etc), conflict (dynamics, actors, urban resistance etc) and popular imaginations (memory/ narratives etc.) in much greater depth.
The workshop is thought as a platform for recent research projects about Columbia based in Switzerland. We propose to address these three overarching concepts of conflict, space and memory as a main window to allow for a broad scope of presentations that might be interlinked and speak to each other.
For this workshop, we intend to create connections and exchange within the Colombia related academic world within Switzerland and abroad while bringing diverse disciplinary backgrounds, regional interests and historical and contemporary perspectives together. We are particularly interested in processes of knowledge production within the different fields of research and welcome papers that deal with questions of reflexivity within the proposed framework.
The workshop is directed to researchers and students of Social and Cultural Anthropology, Cultural Studies, Political Sciences, History, Law, Geography as well as Conflict and Memory Studies as well as persons interested in the current research in and about Colombia.
We would be pleased to receive your abstract proposals (250 words) in English or Spanish until 30.07.2018. Presentations should be no longer as 20 min to guarantee a discussion of at least 10 min).
We will notify the participation and publish the program mid of August 2018.
Organizers/Contact:
-------------------
Silke Oldenburg, Ethnologische Seminar, Universität Basel, This email address is being protected from spambots. You need JavaScript enabled to view it.
Alexander Brust, Museum der Kulturen Basel, This email address is being protected from spambots. You need JavaScript enabled to view it.
Date:
------
Fri, 16.11.2018 from 10:00AM to 18:00PM hrs
Venue:
------
Museum der Kulturen Basel, Veranstaltungsraum, Münsterplatz 20, 4051 Basel
CONFERENCE: Social conflict and legal pluralism in colonial Yucatán
Published: Wednesday, 23 May 2018 09:09
CONFERENCE
Dans le cadre de la série de séminaires « Sud » organisée par les professeurs Alexander Keese et Aline Helg,
vous êtes cordialement invités à la conférence que donnera Mme Ute Schüren (Université de Münster) :
Social conflict and legal pluralism in colonial Yucatán, Mexico
par Madame UTE SCHÜREN (Université de Münster)
Mercredi 23 mai 2018
18h15, Salle B112
Uni Bastions, Genève
Entrée libre
Toute personne intéressée est la bienvenue
Junio 2018: X Congreso de Minificción de San Gallen
Published: Wednesday, 23 May 2018 08:56
Vivir lo breve: nanofilología y microformatos en obras de arte
Entre el 21 y el 23 de junio de 2018, se celebrará el X Congreso Internacional de Minificción en la Universidad de San Gallen. La décima edición no solo se limitará al estudio del género literario, sino que pretende abrirse a los microformatos en otras artes (cine, música, baile, performance) y en los medios de comunicación social. De ahí que el análisis nanofilológico no pueda evitar incluir aquellas manifestaciones que a diario buscan adiestrarnos en la lectura de textos ultracortos y que pueden abarcar extremas y trascendentales dimensiones, desde el pajarillo de Twitter hasta el dinosaurio. El enfoque temático se centrará en distintas formas de la vida, convivencia y sobrevivencia.
A lo largo de los últimos tres decenios, las diferentes formas (y normas) de la microtextualidad han ido ocupando un espacio cada vez más significativo en la vida literaria y cultural y, simultáneamente, en la vida política, social y cotidiana. La brevedad textual caracteriza desde las expresiones estéticas más sofisticadas hasta las actividades mediáticas de una inteligente producción del pensamiento estúpido. Las diversificadas perspectivas de la nanofilología concretan nuevos 'modelos para armar' de futuras formas de nuestro existir. Las literaturas del mundo, bajo el signo de lo breve, configuran el futuro (o los futuros) no solamente de lo vivido sino de lo vivible: lo breve se convierte en lo paradigmático y, paralelamente, la brevedad (Kürze), en la sabiduría y el sabor (Würze) de la vida.
Están previstas, en el marco del congreso, no solo conferencias plenarias, ponencias mesas redondas de críticos y creadores y lecturas de textos literarios sino también actuaciones de distintos artistas y músicos así como presentaciones de directores de cine.
La participación en este congreso es gratuita.
PARA MAS INFORMACION:
Enlace al Sitio Internet del evento
Centro Latinoamericano-Suizo de la Universidad de San Gallen CLS-HSG
Müller-Friedberg-Strasse 8
CH-9000 St.Gallen
E-Mail: This email address is being protected from spambots. You need JavaScript enabled to view it.
Tel.: +41 71 224 25 66
CONFERENCIA Le culte rendu à Bolívar, libérateur de l'Amérique latine
Published: Thursday, 30 March 2017 09:43
Nous vous invitons à une conferencia de Mme Aline Helg este sábado 1º de abril 2017, en el marco del Festival Histoire et Cité, sobre "Le culte rendu à Bolívar, libérateur de l'Amérique latine".
Aujourd'hui, Simón Bolívar continue de nourrir l'imaginaire latino-américain. Au Venezuela, il fait l'objet d'un véritable culte d'État, en particulier sous la présidence d'Hugo Chávez. Depuis les années 1840, des mouvements de droite, de gauche, fascisants ou de guérilla marxiste revendiquent son héritage. Mais quels liens entre ces récupérations politiques souvent contradictoires et la vision qu'à Bolívar de l'Amérique?
Mas información aquí:
https://histoire-cite.ch/programme/le-culte-rendu-a-bolivar-liberateur-de-lamerique-latine/
Lugar : Universidad de Ginebra, Uni Bastions, Salle B101.
Fecha y hora : samedi 1 avril 2017, de 12h45 à 13h45
Expo "Art en mouvement: devenir Ecuador"
Published: Tuesday, 04 October 2016 06:28

L'Unité d'espagnol et le Département d'histoire générale de la Faculté des lettres, en collaboration avec la Mission permanente de l'Equateur auprès de l'ONU à Genève, vous invitent
au vernissage de l'exposition
ART EN MOUVEMENT: DEVENIR ECUADOR
ARTE EN MOVIMIENTO: DEVENIR ECUADOR
Jeudi 13 octobre 2016 à 18h30
Présentation et visite guidée par Carlos Jáuregui et Tatiana Botero, professeurs à l'Université de Notre Dame (Indiana) et co-auteurs de l'exposition.
Ainsi qu'aux visites guidées gratuites:
Les 18 et 25 octobre de 12h30 à 13h30.
Inscription
Cette exposition interactive, qui a déjà été montrée aux Etats-Unis et à Quito, porte sur la peinture murale Ecuador(1952). Œuvre du peintre équatorien Oswaldo Guayasamín, l'un des artistes latino-américains les plus importants du XXe siècle, cet ensemble constitué de cinq panneaux, originellement mobiles afin de permettre leur agencement libre, est aujourd'hui exposé dans la Capilla del Hombre à Quito. Il fait partie d'une collection de 103 tableaux commandés par le gouvernement équatorien dans les années 1950 afin de symboliser l'intégration harmonieuse de la nation équatorienne par le métissage de sa population. Conçu comme un artefact mobile permettant plus de 30'000 configurations, Ecuador a pourtant été, au fil de l'histoire politique et idéologique du pays, figé dans un cadre.
Dans l'exposition présentée à Uni Carl Vogt, le public pourra découvrir une reproduction du mural encadré, ainsi qu'une projection affichant de manière aléatoire les permutations possibles de ces panneaux. Il pourra aussi mettre en mouvement les divers panneaux depuis un écran tactile et jouer ainsi avec leurs multiples agencements — qui sont aussi ceux de la nation équatorienne, toujours en mouvement.
L'exposition est elle-même en mouvement, puisqu'elle a voyagé aux Etats Unis et en Équateur avant d'être présentée à Genève.
Journée d'étude: Cultura, historia y literatura en torno a la obra de Oswaldo Guayasamín 
Vendredi 14 octobre de 9h30 à 17h 
Programme

Coloquio internacional : "Derecho y politicas para pueblos indigenas y poblaciones afrodescendientes : desafìos en la investigaciòn transdisciplinaria y colaborativa"
Published: Wednesday, 22 June 2016 17:54

FECHA
Lunes 4 de Julio 2016 de 9h30 a 17h00.
Martes 5 de Julio 2016: de 09h30 a 17h00.
LUGAR: Edificio Géopolis, UNIL (UNIVERSIDAD DE LAUSANNE), Mouline - 2235, Lausanne.
¿COMO LLEGAR HASTA ALLI? Véase: https://www.unil.ch/acces/fr/home.html
Esta jornadas se llevará a cabo en español ya que contaremos con colegas y representantes indígenas y afrodescendientes latinoamericanos.
El coloquio alternará entre:
- Talleres o sesiones de discusión de problemáticas entre estudiantes graduados, activistas, académicos, etc. que se centraron en casos concretos de investigación presentados en unos 10 minutos; y
- Sesiones plenarias con conferencias magistrales y sesión de preguntas y respuestas (en español y francés).
Durante estas jornadas se explorarán diversas experiencias y formas de conformar proyectos de investigación académica que incorporen interlocutor es indígenas y afro-descendientes (quienes pueden ser o no académicos), así como activistas y colaboradores de comunidades y organizaciones. Los talleres y paneles incluirán la participación de investigadores jóvenes y estudiantes de posgrado así como investigadores senior con amplia experiencia en investigación colaborativa, quienes no sólo estimularán el debate sino que también compartirán aprendizajes
sobre estrategias de elaboración de proyectos conjuntos más ambiciosos.
La organización de este evento es posible gracias al soporte económico del Secrétariat d'Etat à la formation, à la recherche et à l'innovation (SEFRI-Suiza) en el marco de los Seed Money Grants para Latinoamérica y el Instituto de Ciencias sociales de la Universidad de Lausanne, del Instituto de ciencias sociales de la Universidad de Lausanne y de la Sociedad Suiza de Americanistas.
Este coloquio está organizado bajo los auspicios del LACS y del LACCUS, dos laboratorios del Instituto de ciencias sociales de la Universidad de Lausanne.
Para información on-line, véase (el link sobre el programa esta abajo de la página): https://www.unil.ch/getactu/wwwlaccus/1466064555750/
Para quienes quiere participar, rogamos que se inscriban POR EMAIL antes del 30 de junio a This email address is being protected from spambots. You need JavaScript enabled to view it., es muy importante por razones de organización.
EL PROGRAMA COMPLETO ESTA DISPONIBLE EN ESTE ENLACE
Organizan:
Sabine Kradolfer, Universidad de Lausanne
Aline Helg, Universidad de Ginebra
Claudia Briones, IIDyPCa, CONICET y UNRN (Argentina)
Simposio: Falsificaciones en las Artes, las Letras y los Productos
Published: Monday, 23 May 2016 23:01
Tenemos el placer de anunciarles el simposio interdisciplinario sobre las falsificaciones en las artes, las letras y los productos.
FECHA: 17 y 18 de junio 2016.
Lugar: Universidad de San Gallen, sala 09-012, edificio de la Biblioteca Entrada superior, frente a Guisanstrasse 11, entrada principal, Dufourstrasse 50.
Nos encantaría contar con su presencia en el evento, cuyo programa encuentran en documento adjunto.
La jornada está abierta al público y será de asistencia gratuita. Por motivos de organización, les rogamos que se inscriban hasta el 15 de junio de 2016: This email address is being protected from spambots. You need JavaScript enabled to view it.
ORGANIZA:
Centro Latinoamericano-Suizo CLS-HSG, San Gallen
Tfno.: +41 071 224 25 66 This email address is being protected from spambots. You need JavaScript enabled to view it.
www.cls.unisg.ch
INTRODUCCIÓN
En las culturas occidentales, la autenticidad y la originalidad suelen considerarse valores autosuficientes, estrechamente ligados entre sí que pueden provocar dilemas y situaciones límite. Al mismo tiempo, la falsificación goza de un reconocimiento renovado: el mimetismo en la naturaleza, Jusep Torres Campalans en el género biográfico, Pierre Menard en la escritura, Elmyr de Hory en la pintura o el pirateado bolso Louis Vuitton siguen suscitando un amplio interés. Las letras, las artes y los productos industriales recurren a la falsificación como principio creador tan sugerente como subversivo. Al mismo tiempo, no se deja de reivindicar la importancia de la propiedad intelectual y el valor de lo auténtico. La era digital, por su parte, trae consigo nuevos desafíos que no solo atañen a las prácticas de patentar productos sino también la piratería y el plagio de trabajos académicos. Tematizar este debate promete llevarnos hacia una exploración dialéctica de sus tensiones. El congreso aborda la falsificación como zona crepuscular entre recurso artístico y práctica ilícita que saca a la luz nuevas dimensiones del siempre problemático vínculo entre la verdad y su ocultamiento.
CONFERENCE/DEBAT FIN DE PARTIE POUR LA GAUCHE BRESILIENNE?
Published: Thursday, 28 April 2016 14:16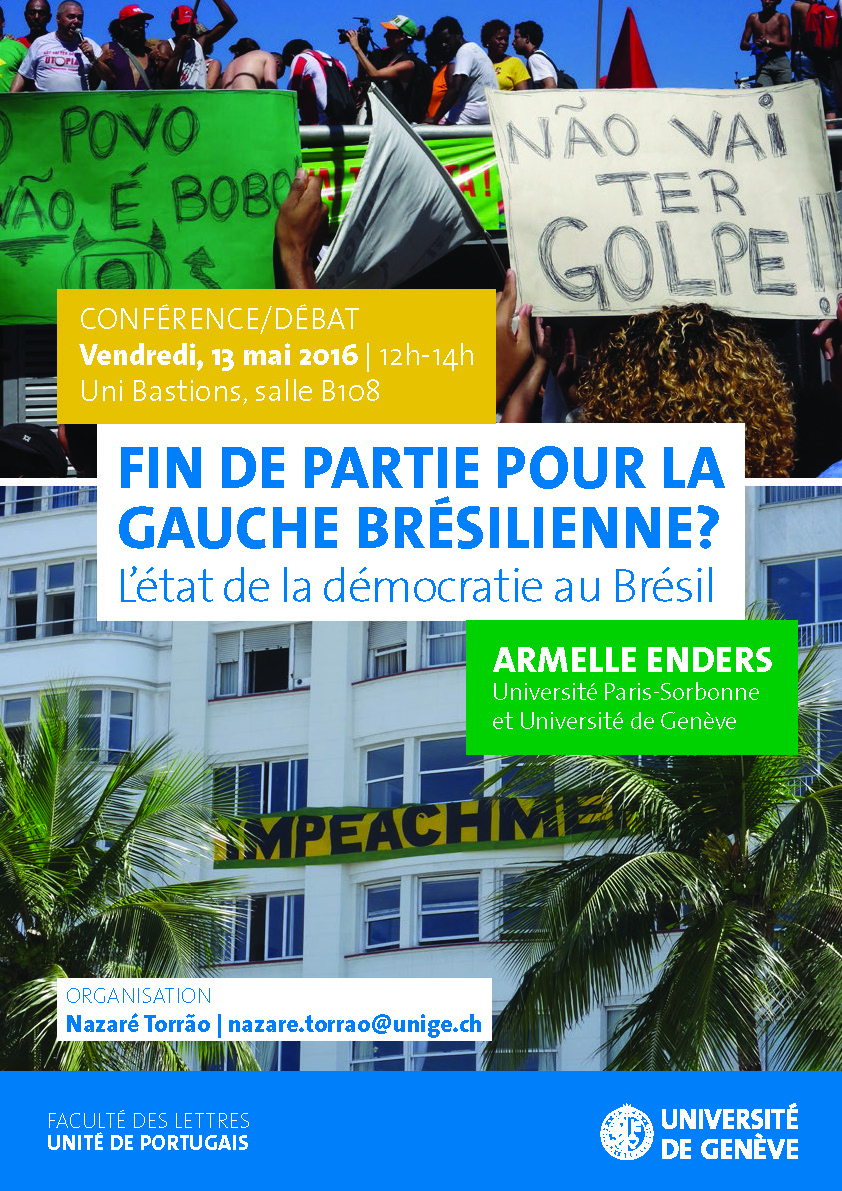 VENDREDI, 13 MAI 2016 12h-14 h
UNI BASTIONS, SALLE B108
FIN DE PARTIE POUR LA GAUCHE BRESILIENNE?
L'ETAT DE LA DEMOCRATIE AU BRESIL
Par Armelle Enders
Université Paris-Sorbonne et Université de Genève
Contact:
FACULTE DES LETTRES
UNITE DE PORTUGAIS
Nazaré Torrão : This email address is being protected from spambots. You need JavaScript enabled to view it.
Conference "CHANGEMENT CLIMATIQUE ET EXTRACTION MINIÈRE CHEZ LES Q'EROS DES ANDES"
Published: Thursday, 24 March 2016 13:56
Dans le cadre du séminaire "Comprendre le monde andin (Pérou, Bolivie, Equateur). Politique, société et ethnicité, XIX-XXème siècles » organisé par Ombeline Dagicour.

LE DR. GEREMIA COMETTI
(Fondation Nationale Suisse, chercheur invité au Laboratoire d'Anthropologie Sociale- EHESS/Collège de France (Paris). Auteur de Lorsque le brouillard a cessé de nous écouter » Changement climatique et migrations chez les Q'eros des Andes péruviennes. Bern, Berlin, Bruxelles, Frankfurt am Main, New York, Oxford, Wien: Peter Lang, publié en 2015).
Donnera la conférence :
CHANGEMENT CLIMATIQUE ET EXTRACTION MINIÈRE CHEZ LES Q'EROS DES ANDES
RÉSUMÉ: À travers un travail ethnographique chez les Q'eros des Andes péruviennes, cette communication vise à montrer l'importance d'intégrer dans les études conventionnelles sur les impacts du changement climatique, les points de vue des sociétés directement concernées. Ces réflexions seront élargies en intégrant dans l'analyse la question du secteur extractif – toujours plus expansif – au Pérou et dans la région de Cuzco. L'objectif principal de la communication sera de repenser les relations entre êtres humains et non humains afin de mieux comprendre comment les sociétés andines conçoivent et réagissent face aux mutations rapides de leur environnement.
Lieu/date : SALLE MR040, UNIMAIL, PLACE DE PLANPALAIS, GENEVE - Lundi 4 AVRIL, DE 16H15 A 18H00
Présentation du livre "Plus jamais esclaves"
Published: Friday, 11 March 2016 18:06

Les Cafés de l'Histoire
Payot Librairie et la Maison de l'histoire vous convient aux Cafés de l'Histoire :
Avec Aline Helg (UNIGE) pour son ouvrage "Plus jamais esclaves".
Débat animé par Bouda Etemad (UNIL).
Jeudi 17 mars 2016 | 18h00 | Payot Rive Gauche
LECTURE: DIE MAYA IM DIGITALEN ZEITALTER - THE MAYA IN THE DIGITAL AGE
Published: Sunday, 21 February 2016 09:39
VORTRAG - ETHNOLOGIE FASSBAR
MUSEUM DER KULTUREN BASEL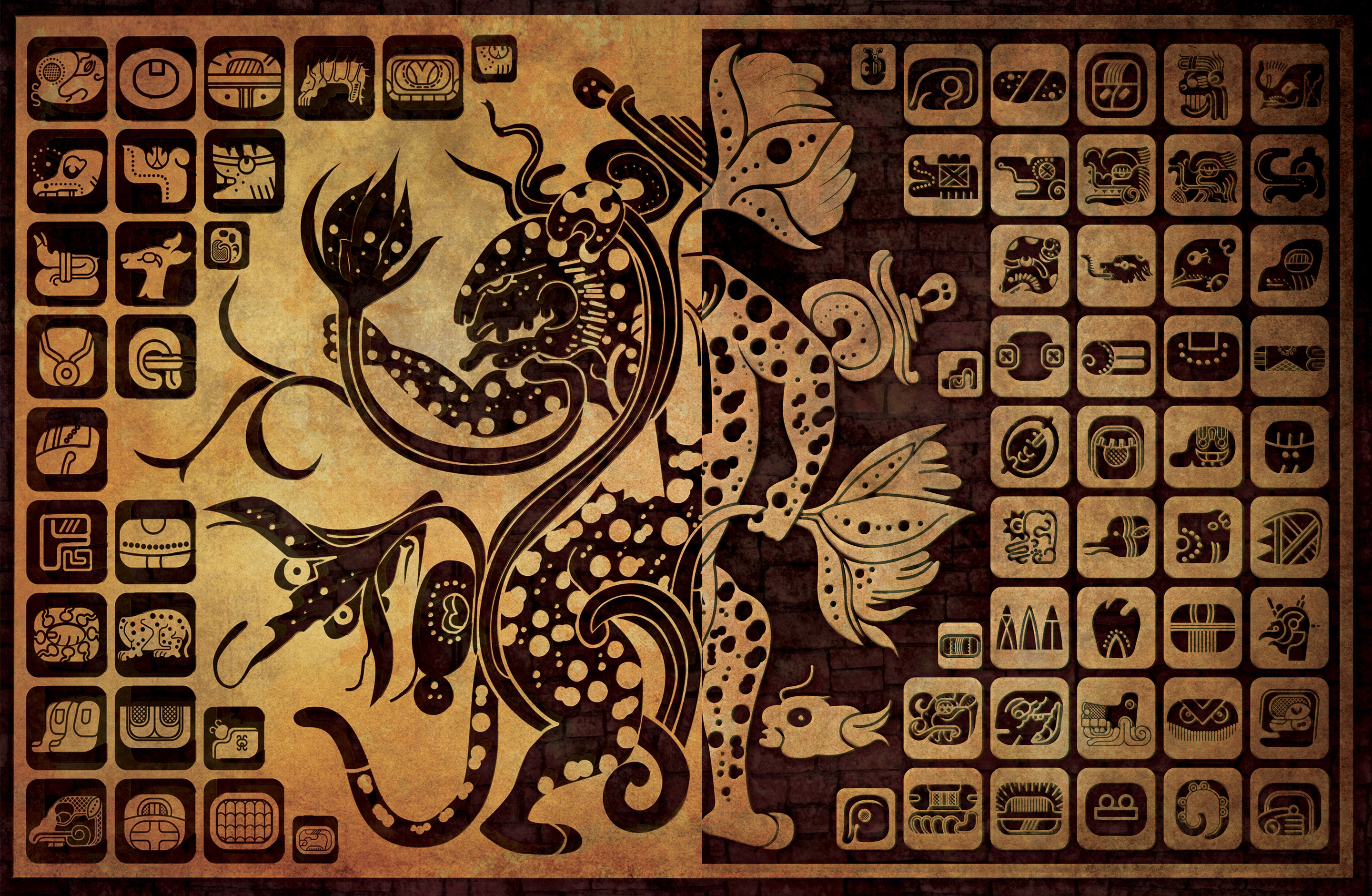 DIE MAYA IM DIGITALEN ZEITALTER
THE MAYA IN THE DIGITAL AGE
02. März 2016, 18.00 - 20.00 Uhr
March 2, 2016, 06.00 - 08.00 p.m.
Museum der Kulturen Basel, Münsterplatz 20, 4051 Basel
Die hölzernen Türsturze aus Tikal gehören zu den wichtigsten Kunstwerken der vorspanischen Maya. Wir diskutieren über den neusten Stand zur Forschung ihrer Hieroglyphentexte und Bildwerke und stellen ein neues digitales Dokumentationsprojekt zur Analyse der bekannten klassischen Maya-Texte vor, das zur Herstellung eines digitalen Wörterbuchs führen wird.
Mit Christian Prager, Sven Gronemeyer und Elisabeth Wagner, Forschungsprojekt "Textdatenbank und Wörterbuch des Klassischen Maya", Universität Bonn. Moderation: Alexander Brust.
Eintritt (gemäss Tarifstruktur)
The wooden lintels from Tikal are amongst the most significant works of art created by the pre-Hispanic Maya people. We discuss the newest research findings concerning the hieroglyph texts and accompanying imagery and present a new digital documentation project designed to analyse the classical Mayan texts with the aim of compiling a digital dictionary.
With Christian Prager, Sven Gronemeyer and Elisabeth Wagner, research project "Text Data Base and Dictionary of Classical Maya", University of Bonn. Panellist: Alexander Brust
> in german
Link zur Veranstaltungsreihe "Ethnologie fassbar"
Museum der Kulturen Basel | Münsterplatz 20 | 4051 Basel | T +41 61 266 56 00 | This email address is being protected from spambots. You need JavaScript enabled to view it.
GRASPING ANTHROPOLOGY
Every first Wednesday of the month, in the evening, we organize an interactive event called "Grasping Anthropology". The idea is to present an anthropological topic of interest, discuss current societal issues and tell stories from a fresh or at least different perspective, offering new and often surprising ways of looking at our everyday life.
The speed of political and socio-cultural change has stepped up a gear over the last few years – whether this is actually the case or only felt so is anyone's guess. The term "unbelievable" is on everyone's lips, signalling individual as well as collective astonishment, maybe even the feeling of losing control. Triggering mixed feelings, even anxiety, lies in the nature of change. The event "Grasping Anthropology" is a special form of mediation and outreach. In guided tours, gallery talks, discussions, workshops, concerts, readings, etc. we shed light on a wide range of culturally and socially relevant topics – in context and in a coherent and comprehensible way. Engagement with the audience and lively discussions on current issues, exhibitions, exhibited objects or the museum as such is what our curators and guest speakers expect, or at least hope for. In this way both sides profit from the exchange, making things which at first appear unbelievable, easier to grasp.
Conference and Roundtable: Extractive Industries and Local Governance in Developing Countries: Challenges and Solutions
Published: Friday, 12 February 2016 01:21
Conference and Roundtable

Extractive Industries and Local Governance in Developing Countries: Challenges and Solutions
18 January 2016, 14:00-­‐19:30
Auditorium Jacques-­‐Freymond, Parc Barton
Graduate Institute of International and Development Studies (IHEID), Geneva
Extractive industries play an important role in resource-­‐rich developing countries. Natural resource extraction makes significant contribution to GDP and government revenue in such countries. However, there are many risks associated with resource dependence including commodity price volatility, lack of transparency and corruption, environmental degradation, displacement of communities and labour rights violations, which can outweigh the economic benefits. Focusing on Africa, Asia and Latin America, this conference explores how effective local governance strategies have been used in specific contexts to overcome such challenges and enable natural wealth to improve people's lives.
Key questions to be addressed include:
-­‐ What policy measures can be used to strengthen the local governance of extractive industries?
-­‐ What can be done to reduce the risk of extractive industries causing enclave economies?
-­‐ What measures can be taken to minimize negative social and environmental impacts and promote inclusive and sustainable development?
The conference is organised by the Swiss Society of Americanists, in partnership with the journal International Development Policy the Executive Master in Development Policies and Practices (IHEID), and the Centro Estudios y Promocion del Desarollo – desco (Peru), with the support of the Swiss Academy of Humanities and Social Sciences.
Further information:
Liliana Soler
Regional Academic Coordinator for Latin America
Executive Master in Development Policies and Practices (DPP)
This email address is being protected from spambots. You need JavaScript enabled to view it.
TOP